This post is not a review post but merely a list of the non-fiction that I've been reading lately, with a short description taken from the back covers. I did enjoy reading each of these books, but don't feel ready to review them just yet. They may appear as a book review in 2020, or they may not.
Cardinal: The rise and Fall of George Pell by Louise Milligan
Cardinal George Pell, Australia's most powerful Catholic, was found guilty of five sexual crimes against children and has been sentenced to six years jail. He is the most senior Catholic figure in the world to be charged by police and convicted of child sex offences. The abuse involved choirboys at Melbourne's St. Patrick's Cathedral. The royal commission into institutional Responses to Child Abuse brought to light horrific stories about abuse of the most vulnerable. Pell portrayed himself as the first man in the Catholic Church to tackle the problem. Louise Milligan pieces together decades of disturbing activities highlighting Pell's actions and coverups. Cardinal has won many awards. (from the back cover)
Murder, Misadventure &
Miserable
Ends; Tales from a Colonial Coroner's Court
by Catie Gilchrist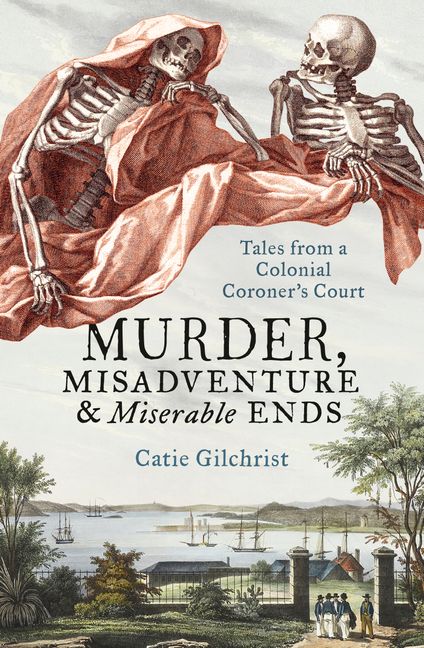 Single & Free: Female Migration to Australia 1833-1837 by Elizabeth Rushen
Henry Shiell was the Sydney city Coroner from 1866 to 1889. In the course of his unusually long career, he delved into the lives, loves, crimes, homes and workplaces of his fellow Sydneysiders. He learned of envies, infidelities, passions and loyalties, and just how short, sad and violent some lives were. but his court was also, at times, instrumental in calling for new laws and regulations to make life safer. With few safety regulations, the colourful city was also a place of frequent inquests, silent morgues and solemn graveyards. this is the story of life and death in colonial sydney (from the back cover)
Between 1833 and 1837, fourteen ships carried nearly 3000 single women from Britain and Ireland, to the colonies of New South Wales and Van Diemen's Land. The women migrated in response to promotional material which emphasised the shortage of women in the Australian coonies. Life at home contrasted dramaticaly with the opportunities provided by the colonies and many enterprising women were encouraged to migrate.
The life experiences of these women demonstrate that they were drawn from a wide cross-section of nineteenth century society. They contributed to the develpment of the colonies through their employment as domestic and agricultural workers, their enterprises as dressmakers, midwives and teachers, as wives and as mothers of the rising generation. This book tells their stories.
Solomon's Noose: The True Story of Her Majesty/s Hangman of Hobart
by Steve Harris
The story of a young convict, Solomon Blay, who became Her Majesty's hangman in Van Diemen's Land. the man who personally had to deliver an Empire's judgment on 200 men and women, and endured his own noose of personal demons and demonisation in order to "survive"; all in the context of the great struggles of good-evil, life-death, hope-despair, which drew the attention of Darwin, Twain, Trollope and Dickens as Van Diemen's Land evolved from a Hades of Evil to sow the seeds of nationhood.
The book paints a vivid picture of the society and poverty from which Blay's character was forged in England and the desperate, brutal nature of being a convict in Van Diemen's Land. Solomon's Noose is an important book in exposing the dark 'underbelly' in the formation of modern Australia.
1788 The Brutyal Truth of the First Fleet by David Hill
In 1788, 11 small ships set sail from England on an eight-month-long voyage over the roughest of seas, carrying 1,500 people, food for two years, and all the equipment needed to build a colony of convicts in a land completely beyond their experience and imagination. In Portsmouth, the fleet's preparation was characterized by disease, promiscuity, and death. The journey itself was one of unbearable hardship, but also of extraordinary resilience. Upon their arrival, however, the colonists faced their biggest challenges of all: conflict, starvation, and despair. Combining the skill of a vigilant journalist with the magic of a master novelist, this entrancing history brings the sights, sounds, sufferings, and joys of the "First Fleeters" back to life. Journals, letters, reports, and pleas to England are all interwoven here with the author's own insight, and together they convey the innermost horrors and joys of the very first European Australians. The result is a narrative history that is surprising, compelling, and unforgettable.
To keep up with the latest book reviews, please pop your email address in the box on the sidebar. This will ensure you are notified of updates.
Find me here: Facebook and Instagram and Goodreads
images: Goodreads